Points allocation rule based on promotions
There is could be a possibility to create some promotion to award some additional points for your users. It could be like in different way: "-20% sale" or "50% more stuff for your efforts" and so on. This mechanism works via linking points allocation reule to a preconfigured promotion with appropriate date range.
In this short tutorial we will try to describe main steps to configure points allocation rule based on promotions.
So first of all, you need to have necessary apps installed:
KPromotions for managing promotions, KSalesData for managing data and KRewardStore to have possibility work with points. In most cases you need to install only first app, others are likely already installed in your account.
Another prerequsites for adding promotion to points allocation rule are points bucket and sales data series. The first one will be used to store points, the second one is using for store sales data from customers. Well, they most likely already configured in your account.
And one more left, lets imagine that you awarding your customer by 20% points value from their sales amount. So, there should be configured points allocation rule for that. if it's not configured yet, please go to manager your data series page, go to points tab and click create points allocation rule.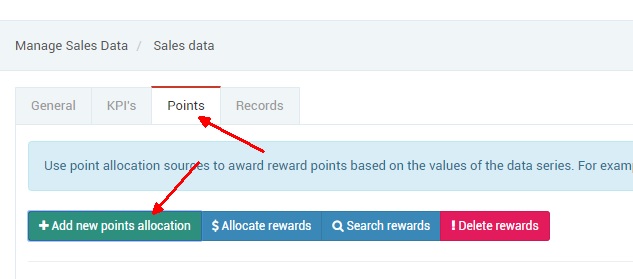 Give it some name, which will describe it's content, e.g. 20% points. Specify your points bucket which you have already created. Push save and when points allocation rule is created click Edit to setup it's properties.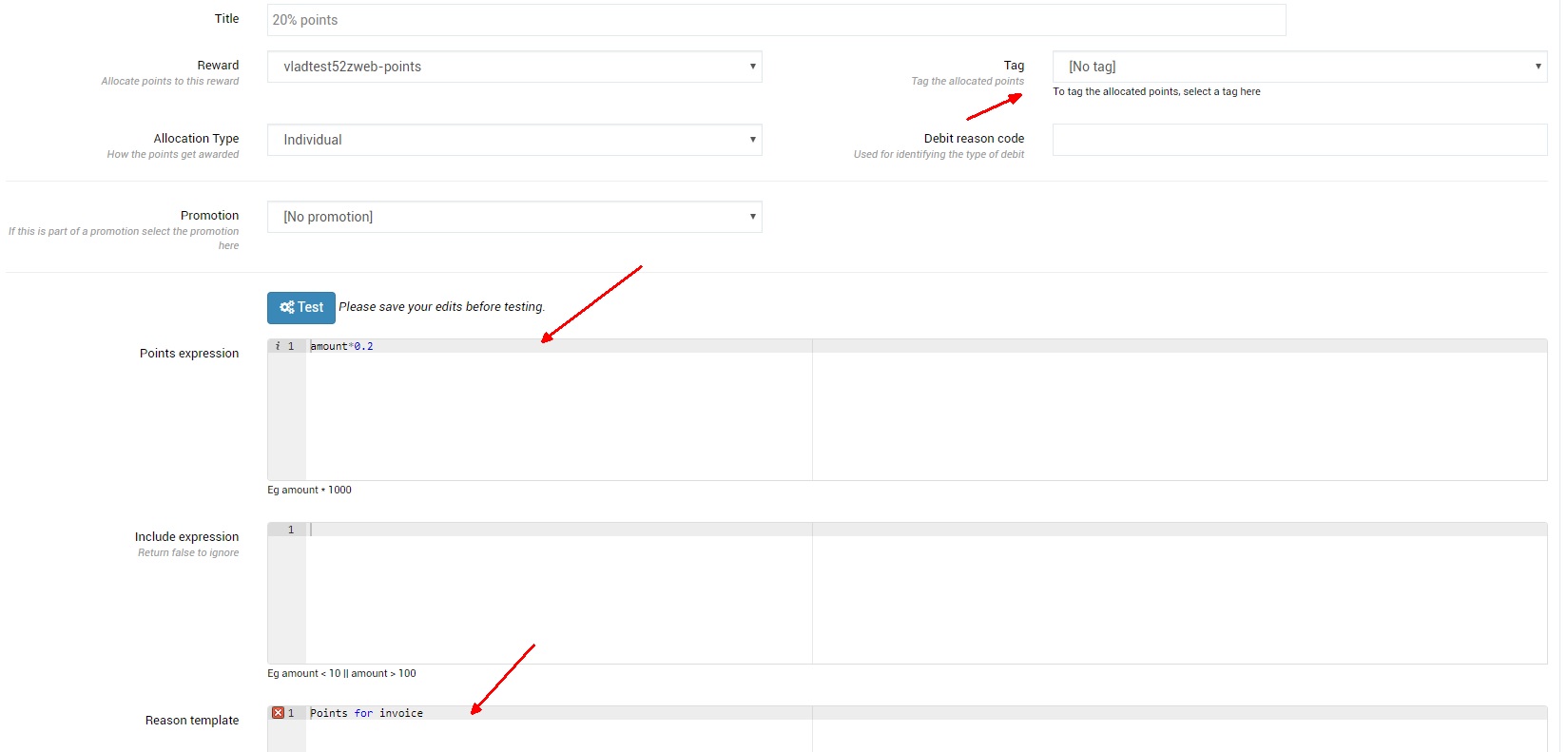 Here you can setup some necessary things:
- title - if you want to change it
- allocation type - individual or org based, depending on where points will come to
- tag - if you have different tags for points you could setup to have this points have their own tag
- points expression - MVEL expression on how much points will be awarded. There could be a complex script or small expression. In out particular case it's amount*0.2, which means that sales data amount from one user will be multiplied to 0.2. E.g. 20 percents.
- reason template - this will describe points why points are awarded. There are also could be MVEL expression which can use some field from sales data, e.g. invoice, number or something else. In our particular case it's a simple text.
That's all for prerequisites, when you add sales data for user with amount of 100 for example, user will gain 20 points.
Now comes promotion part.